Free UK Delivery on orders over £12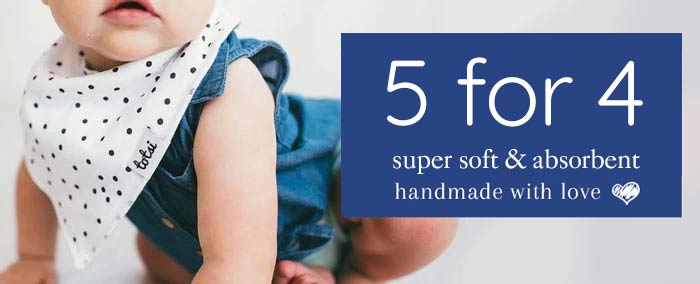 Super absorbent and comfortable bibs. Any 5 for 4.
Why A Totsi Baby Dribble Bib?
Keeping your baby dry from dribbles and drool is our priority. With all of our bibs being made from a super absorbent double layered 100% GOTS certified cotton outer layer, specifically designed to absorb unwanted moisture. Furthermore, all of our bibs are made with absolute care and attention featuring soft fleece inner layer, ensuring the bib feels super snug and is comfortable around your little one's neck and chest area.
Key features of our luxury dribble bib range:
Super absorbent. Guaranteed to keep your little one free from dribbles and moisture all day long.
Each bib comes with nickel-free popper buttons allowing room for growth.
Double layered organic 100% cotton construction.
Soft fleece lined inner layer.
Durable and high quality. Wash me time and time again using a delicate wash setting.
Designed to suit a baby of 0 to 36 months.
Further care details and a washing guide can be found here. Read more. Still not sure about bandana bibs? Read more bandana bib helpsheet here. Thank you for choosing Totsi.